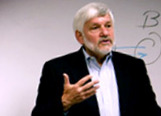 Tom Hubler is a very popular speaker at trade association meetings. He presents a variety of seminars to help family businesses begin to address difficult topics like career planning, appropriate placement of both family and non-family managers in management positions, and leadership skill development.
SUCCEEDING AT SUCCESSION
is a traditional view of succession planning from an inside out perspective. It starts with the concept of purpose, outlines what motivates entrepreneurs, what the obstacles are to succession planning and ends with the traditional view of the four plans necessary for successful family businesses.
Contact Tom Hubler
about this seminar.
THE POWER, MAGIC AND MYSTERY OF A COMMON VISION
focuses on the necessary ingredients to unite a family business family around a common vision. The presentation focuses on the positive family values of a family and converts them into a format that assists with working together as a high performance team.
Contact Tom Hubler
about this seminar.

PASSION, POWER AND PURPOSE: LEADERSHIP AND CAREER PLANNING FOR THE FAMILY BUSINESS
is a presentation that emphasizes the importance of career and leadership planning in family-owned businesses. The presentation starts with a traditional focus on younger generation adult children, discusses the concept of letting go, and ends with the application of career and leadership planning for the senior generation.
Contact Tom Hubler
about this seminar.
UNDERSTANDING LEGACY: YOUR GIFT TO THE FUTURE.
This is a presentation that taps the interest and passion of all entrepreneurs and their families as they look toward the future. The program offers an explanation of legacy, covers what is a legacy, why it is so important in succession planning and wealth, what are the five parts of a successful legacy, and specific suggestions and ideas for the creation of a legacy will are also be explored.
Contact Tom Hubler
about this seminar.

COMMUNICATION AND FORGIVENESS: AN INTEGRAL FORCE FOR FAMILY BUSINESSES.
This presentation explores communication and forgiveness and how they apply in the family business. The presentation shows even with people we love how important it is to communicate and forgive, including the people we love most. The steps of forgiveness are explored as a part of the program.
Contact Tom Hubler
about this seminar.
Career planning, management selection, leadership skill development and team building are only a few of the challenges that family businesses face each day. Attending any of our Seminars can open new doors to help make running the family business more efficient - and enjoyable.
Email us
, call us at 612.375.0640, or fill out our
contact form
.